Fishing Reports
FISHING REPORT SEPTEMBER 2018
Maine had some good fishing in September, just tricky to get at it. We've had nice big surf off and on all month just making it challenging to get at the fish with the fly rod, but a few nice days. I've made several trips south for False Albacore. These fish are challenging and lots of fun all at the same time. Sometimes they are happy to eat just about anything, other times you throw 30 patterns at them in a morning with nothing! When they do eat its very rewarding, and usually followed by a long high speed run deep into the backing. Ive had some real fun days out with my friend DJ on his boat, and even got to take my family for a day trip shore fishing. My daughter Eleanor had a great time playing on the beach, but was a little upset when we actually landed fish. Just like Albies, a two year old will always keep you guessing.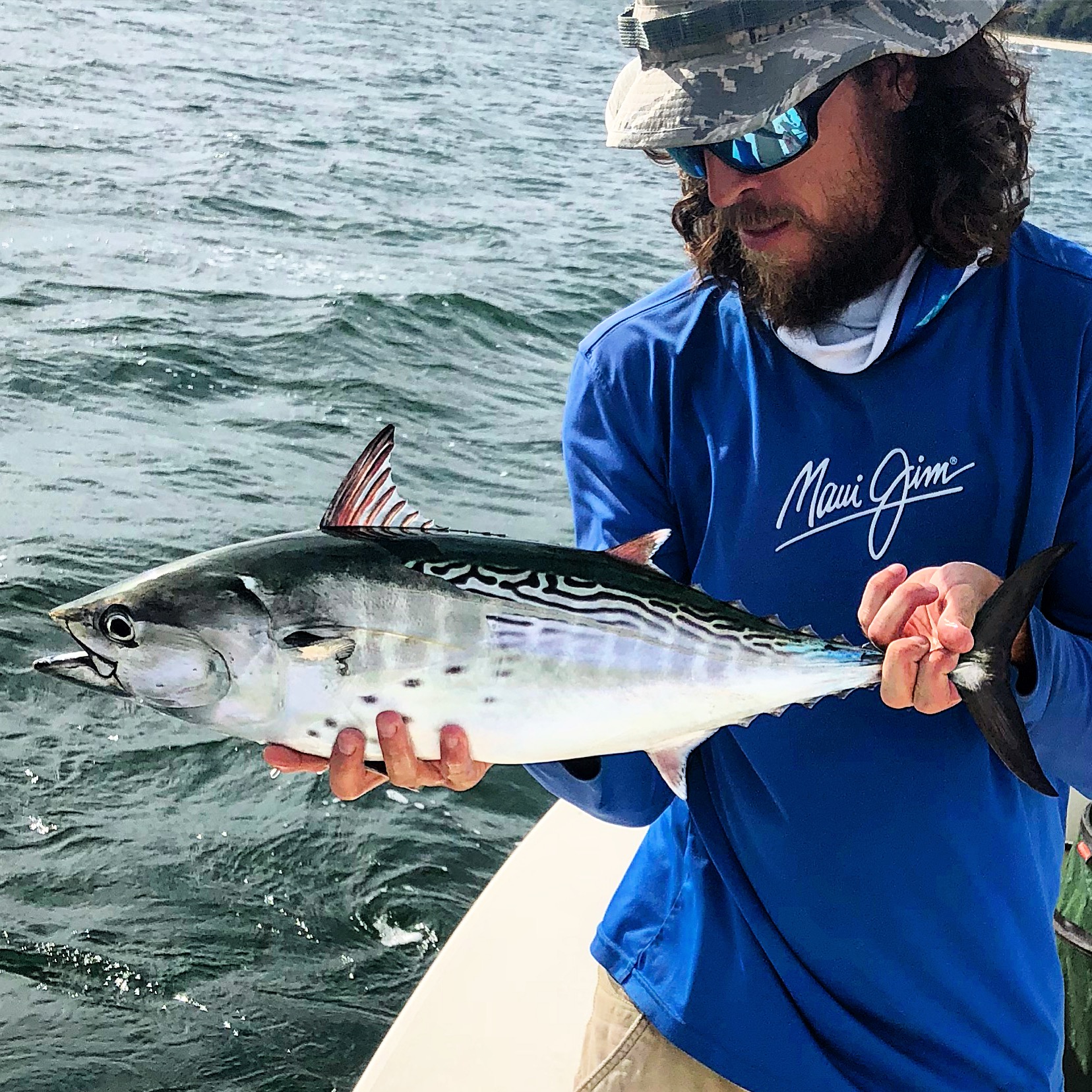 FISHING REPORT AUGUST 2018
August was a tricky month on the southern Maine coast. We had some varying water conditions and some slow days, but we also had some really awesome days. Big fish on big schools of adult bunker was definitely the name of the game. Had an awesome day with one of my guys guiding, we had a really slow morning with pretty much no action other than one take. We moved through a couple spots and get working the water until things finally went off! A huge school of 35-45" stripers hit a pod of pogies so hard that they went scattering off in every direction and the stripers went to town! My guy threw a few casts we had big fish busting right next to us and didn't take long for him to hook up on a solid cow. It took off and he was into the backing quick. After a nice well played fight we had the fish close, but I made a mistake landing it, got my hand on her but she got away, heartbreaker. My guy took it like a champ though, and only a few casts later got an absolutely explosive take from another solid cow. Another nice fight deep into the back, but this time we got it to hand, Zacks first 40"!!! Had a couple other awesome days landing multiple 40" plus fish including an awesome and impressive fight from a nice fat 45". August is usually a challenging month for striper fishing up here, but this year it definitely delivered.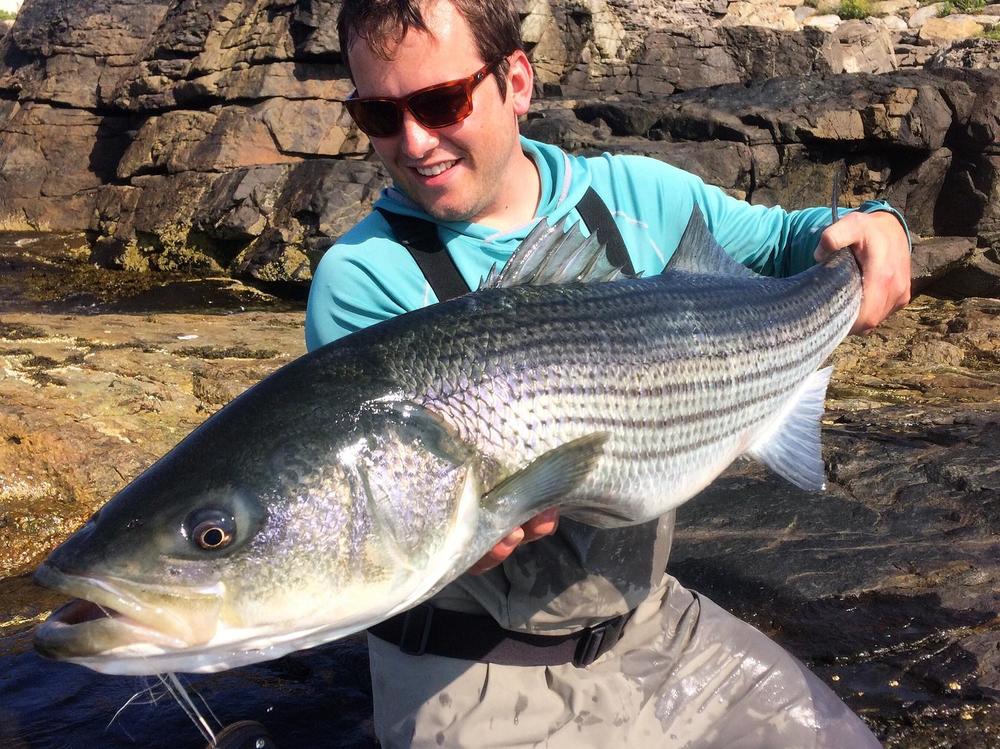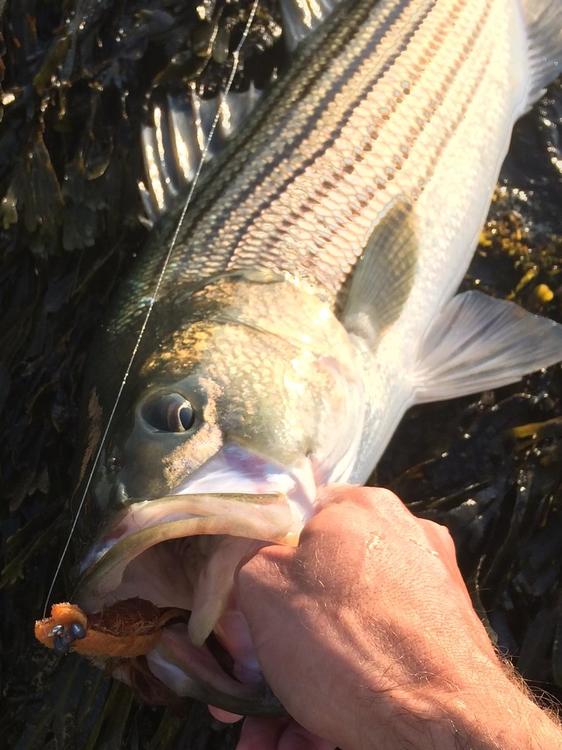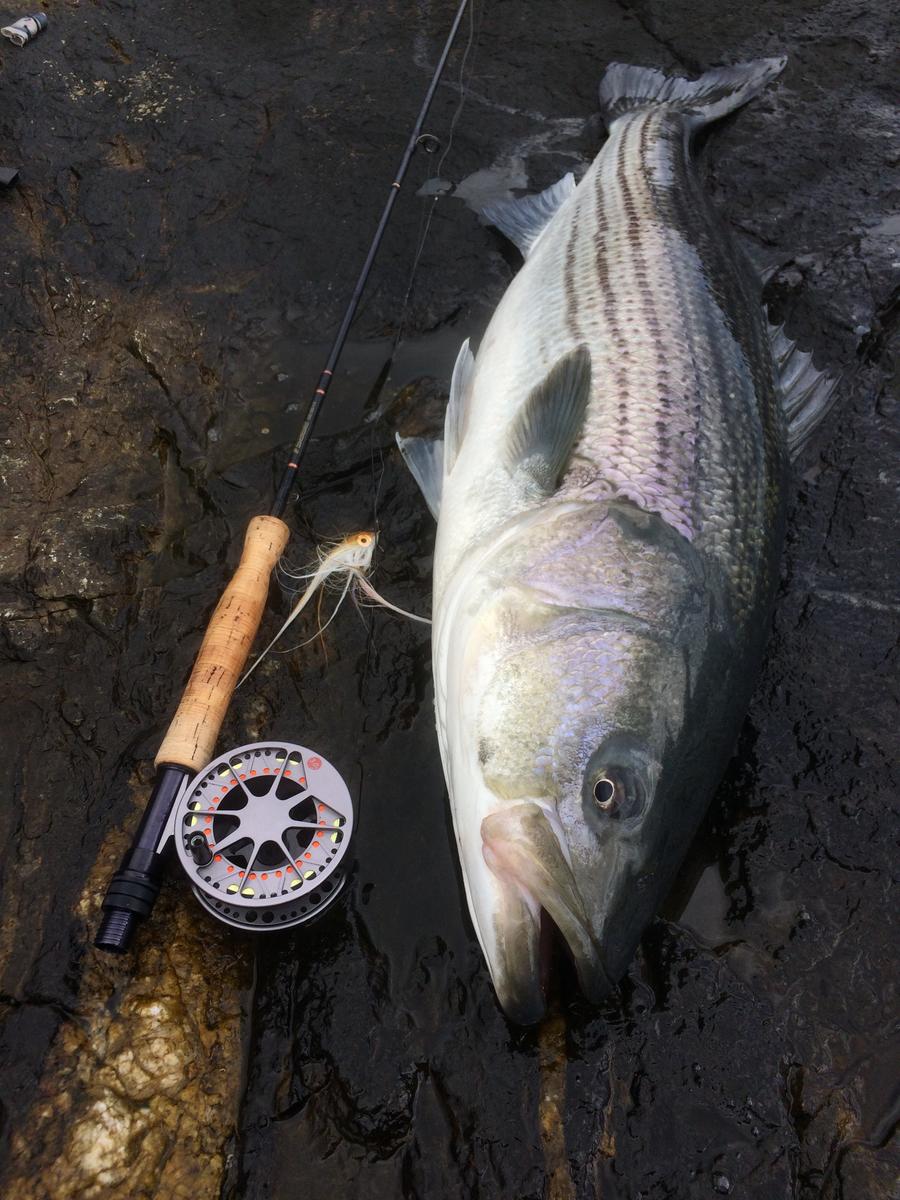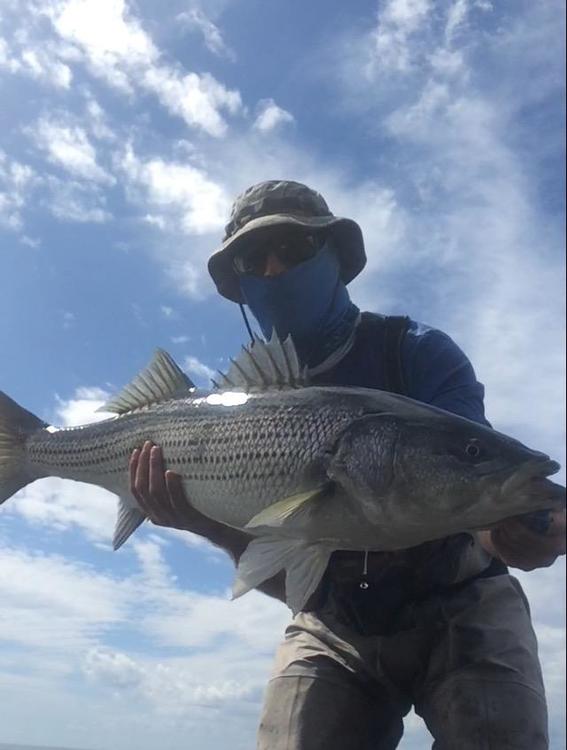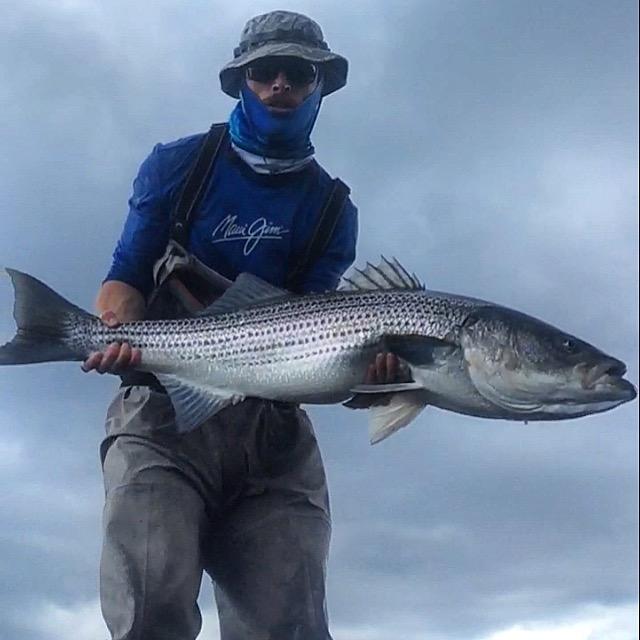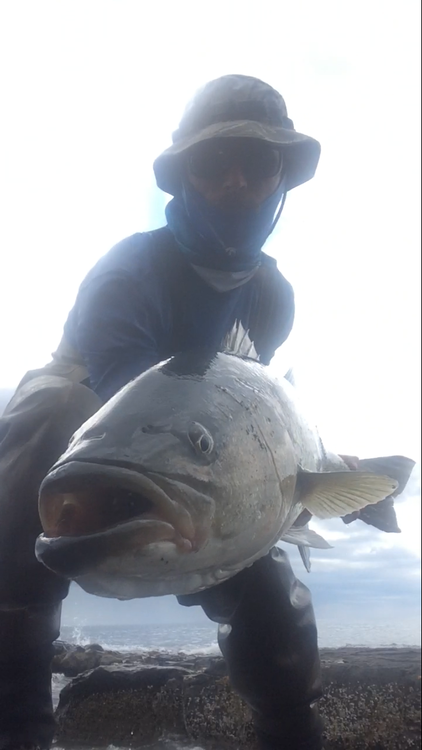 FISHING REPORT JULY 2018
July was a great month. We got lots of schoolies, keepers and a fat 40 incher and a really healthy 47 inch fish! Bunch of nice days on the water with guiding clients, did a lot of first striper on the fly trips which are always good fun. Lots of Menhaden around still, with big bass, minke and humpback whales, sharks, and the occasional tuna showing up to feed. Starting to see lots of young bunker, we might get a good run of peanuts this fall which would be really fun.
Cheers
James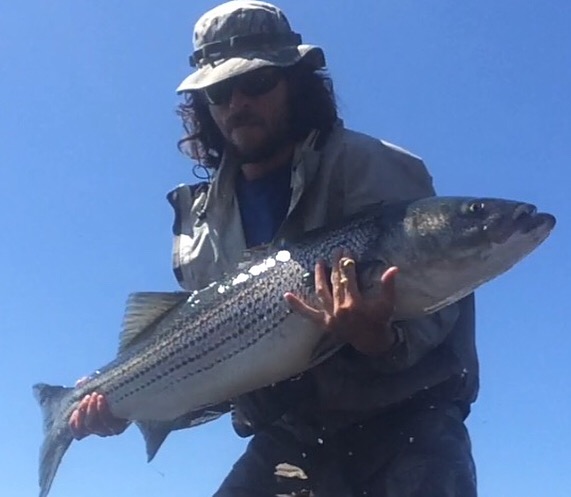 Eleanor was not too impressed with Liz's fish!!
FISHING REPORT SUMMER 2018
This season started off with a bang for me on May 20th. Since then fishing has been great. We've had a couple slower days here and there but mostly lots of fish, and some great size too. A lot of my guiding days have seen great shots at big breeding size fish, many keepers and low 30" fish landed, and piles and piles of schoolies. We've had many sunny calm days with excellent sight fishing, it can be tough to get them on these days but so fun and rewarding. Lots of bait this year, mackerel, herring, pollock, crabs, and once again huge schools of Menhaden for miles and miles!! Its been so nice seeing them again, they bring the big bass. I've been lucky to land three 40" plus fish this year and lost way too many, but that's the deal with big fish, hard to find hard to hook and very hard to land. Its great to see so many schoolies all over the place too, finally feels like the fishery is starting to rebound a bit. Please fish catch and release so we can continue to see improvements every year!!
Cheers - James Browne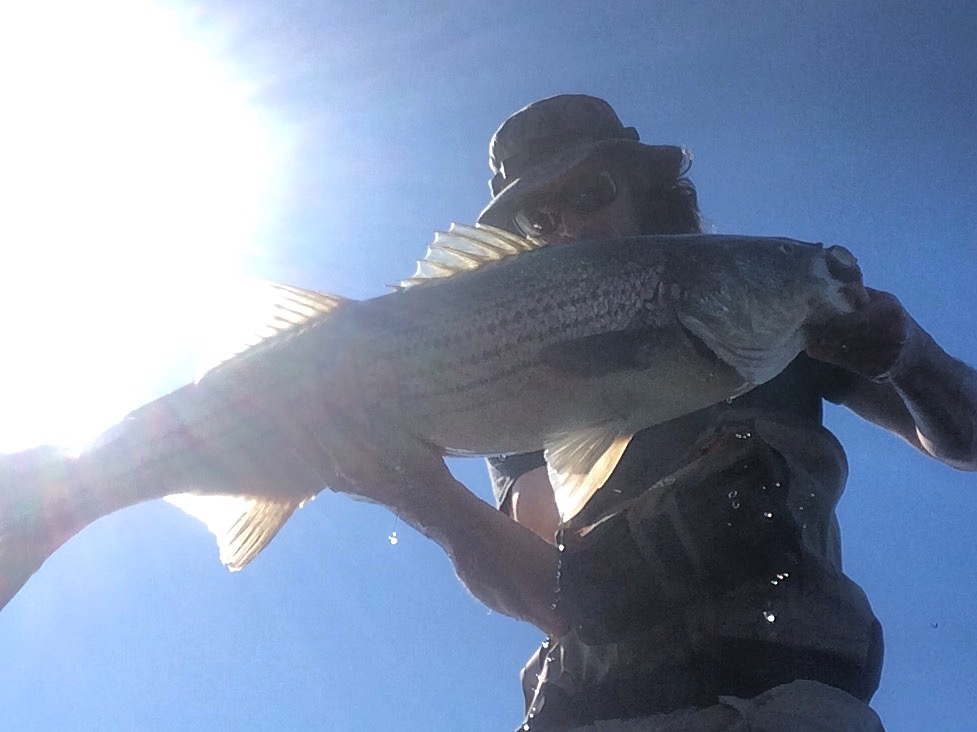 FISHING REPORT 6/12/17
Another season of striper fishing is well under way, and its been good! One thing that we all agree with here at the shop is that there has been a good spread of fish. As opposed to the past several years where there is good fishing here and there, this year we seem to be finding fish all over the place. A lot of them are very small, 10-20" and even some 8-10" ultra micros, these fish are our future, so please handle them with care. There have been a very good amount of wicked hard fighting 27-32" fish around the past few weeks and big breeders starting to fill in. The amount and variety of bait around has been great. Piles of sand eels all over the place, tons of juvy herring, some mackerel, and even some bunker! A variety of flies have been working, figure out what ever bait is around in your area and match it the best you can. Guiding has been great, I love getting to meet new people and teach them techniques for catching stripers, and this has been a great year for it so far. Get out there and have some fun!
SALTWATER FISHING REPORT 10/4/16
Not quite sure how it got to be October already! Well leaves are starting to show color, mornings are cold, and it's a great time to be fishing. Weather conditions have been very tricky over the past couple weeks. There has been a pattern of storms and surf rolling through, combined with a lot of seaweed and wind it has been challenging. During the brief windows of good weather we've had some good fishing though. I had a busy guiding schedule with a bunch of great people, including a multiple day trip with a group of guys from Norway. I've never hung around with any Norwegians before so I had no idea what to expect, but these guys were hardcore fisherman and a lot of fun! We caught some bigger schoolies and a ton of 12-20" fish, but we had back luck on the big fish, although we did get on them and one cow was hooked, but unfortunately did not come to hand. There is still a ton of bait around, sand eels, silversides, herring, and a surprising number of bunker. I've had some pretty good top water action the past few days, and it feels like everything is staged up for a good fall run. I get a lot of questions about whether or not its worth trying to fish this time of year, I want to say "no, stay home" and keep it all to myself, but the honest answer is definitely go!
I was fortunate enough to get to take a very fun trip south last week. Capt. Zak Robinson of www.Risingtideanglers.com guides out of Portsmouth, NH most of the season but does trips for False Albacore out of Point Judith, RI in the fall. I'm the luckiest guy in the world when it comes to fishing for Stripers, Steelhead, Trout, Salmon, even Bluefin Tuna! But when it comes to catching false albacore I have the worst luck. I've never landed one after multiple trips chasing them, good opportunities to catch one, and even a couple very brief hookups. Zak called and said he had an opening in his schedule and asked if I wanted to fish. I was very excited to get another shot at these funny fish and to go with a fellow guide at the end of a long season just sounded perfect. I almost wanted to say no as I didn't want to bring the bad mojo on Zak's boat, but I couldn't pass this one up. This was one of those 2:30am alarms that went off and it was easy to get up and go, nothing but excitement and anticipation. First light revealed some beautiful conditions, just a wisp of wind, 1ft seas, crisp cool air and clear skies. We launched and as soon as we got to the breakwaters we could see fish busting. As we approached there were fish popping all over the place and I hurried to get my line ready. Fish popped port side, I threw a cast, strip strip strip no take. Then an aggressive feed kicked off the starboard about 50ft out, I threw a good cast right into them, strip, strip and fish on! I wasn't quite sure if it was an albie or not, it was moving around pretty quick but came toward the boat and didn't dive right away. Then it turned and went and there was no doubt about it. Wow those things can run. It did a couple drag screaming runs, then did the same diving spirals that I was used to from my days catching bluefin. What a great fight, that thing had my 9wt maxed out, I must have been grinning ear to ear. Zak helped me land it and I had my first Albie to hand. We could have motored back to dock and called it a day and I would have been 100% happy. But instead Zak kept us on feeding Albies for the rest of the day. We caught good numbers and lost quite a few more. I got a fat one at 27" that put up an unbelievable fight with several runs going deep into the backing. Started the day off landing a fish, and ended the day landing a fish, with nothing but good laughs and fun fishing in between, couldn't have asked for a better day. If you're thinking about booking a fall trip for Albies definitely check out Rising Tide Anglers.
Cheers,
James Browne
FISHING REPORT 8/30/16
Sorry no report last week, I was booked solid with guiding! The fishing has been hit or miss for me, fish are definitely being a bit fussy and there have been a lot of other water activities adding to the challenge lately. Water temps have been good, but the afternoon winds have been kind of tough lately. Staying mobile has definitely helped lately, give it a good 20 or 30 minutes and if it's not producing carry on. There are still a lot of great fishing opportunities to be had though. I've had good fishing in all the different environments lately. There is still a ton of bait up in the marshes, masses of silversides, sand eels, small herring, bunker and tons of crabs of course. The fish are still running up into this skinny water, I found some good feeds in these areas, of course had a couple slow sessions as well. The sand flats have been a bit slower as they usually are this time of year, but still picking off some good fish. River mouths have definitely been getting pretty good with some of the bait getting washed out of the estuaries. Along the beaches and off the rocks has definitely been producing the best. Still seeing lots of pollock, good numbers of mackerel, and several very large schools of bunker in these areas, I even saw a 30ft whale about 100yards off the rocks last week! We've still been catching a good range of fish sizes, 12"-30", but nothing over 30" this week. Liz did hook one good one mid 30's sight fishing in the surf this weekend, but unfortunately it got away. We had slowly walked about 200 yards of the beach in knee deep water waiting to spot fish. Finally I saw two, both about 20" coming towards us from the right. Liz threw the cast but they spooked. Almost immediately 3 other fish came in from the left, close to us, and all over 30". Liz threw a perfect cast with a delicate landing, leading them about 8ft. They came to the fly fast and one inhaled it. It went right onto the reel, made several good runs, and had a solid bend in the 9wt. After a few minutes of fighting the hook popped! Liz was bummed, but hey it was a good fight! Hot flies have been big blue mackerel deceivers/hollows, Buddy's Clouser (in both the original and Foxy BC versions), Little Mule, Crab Pot, and Jims Grocery Pollock. We've had quite a few reports of blue fish being caught in the area, mostly from the boats, but a handful from shore too. With the numbers of bunker I've seen around we might get a push of blues tight to shore which would be a lot of fun. Things are staging up quite nicely for a good fall run too. Last year had excellent fall fishing right into November and we didn't even have all these bunker around. Let's keep our fingers crossed.
Cheers,
James Browne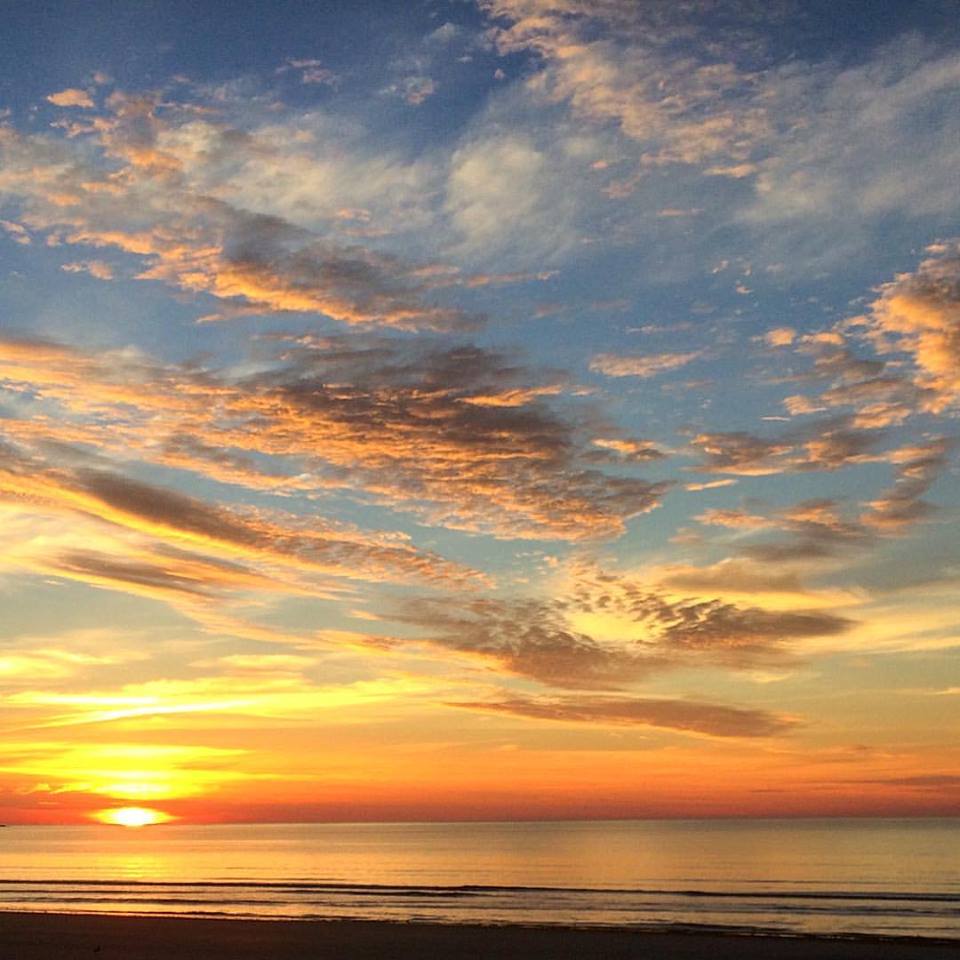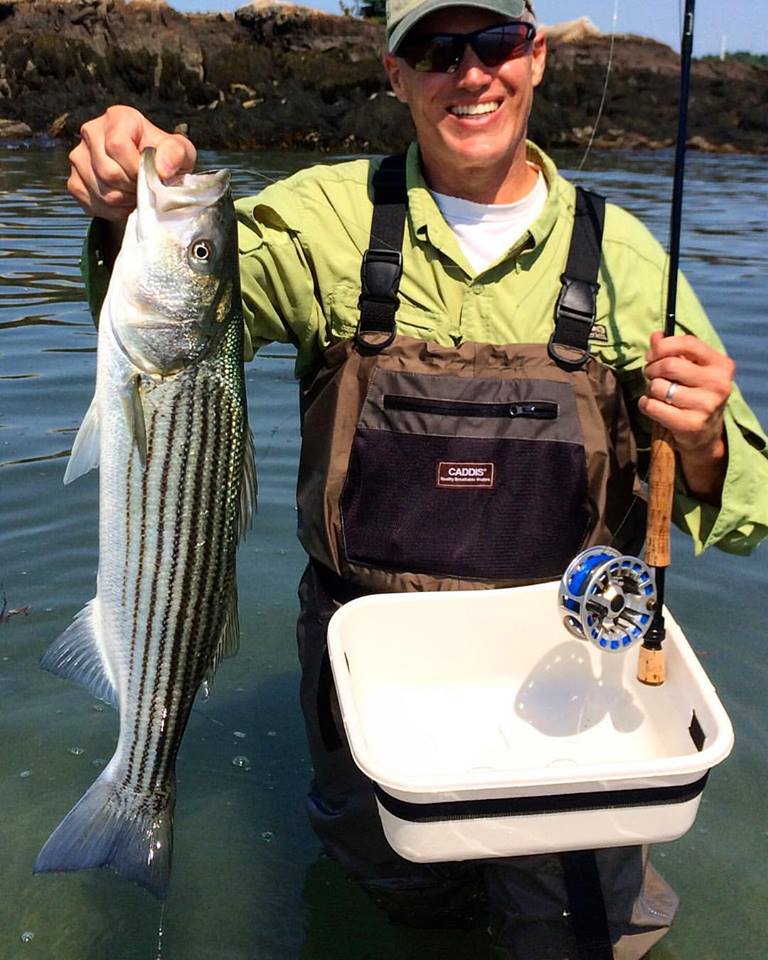 FISHING REPORT 8-13-16

For many years now, every striper season, I have a competition with myself. The goal is to land a striper that is at least 40" long. After some years of success I decided that each time I accomplish that goal I would retire the fly that helped get it done to the door trim near my fireplace. For many years I've been lucky enough to accomplish that goal and some years I've retired several flies. Unfortunately, for the past three years I have not been able to catch my goal and in fact there hasn't been one single 40" striper caught from my skiff. I've blamed it on many things such as not fishing enough, spending way more time poling friends in skinny water for smaller stripers, spending more time at the fly shop and gardening. I tried to brush it off as no big deal but secretly I felt as though I'd lost my big bass mojo. It was gone.
Last Tuesday I was talking to my friend Kent about lack of rain and weeds in my garden. I told him that he should come visiting so he could dig some new potatoes with me and he said, "Dude, you really need to go striper fishing". He talked me into it and we made plans. The afternoon that he was to arrive I was trying to make room in my freezer for a twelve pack of warm Coronas when I noticed the jinx. The second that I laid eyes on it I knew. I couldn't believe that I hadn't thought of it sooner.
It had all started three years ago. It was a few days after I had major knee surgery when local firemen tore out a section of wall in my cabin to keep a raging chimney fire from taking the whole place to the ground. During the remodel the door trim with my trophy flies in it had to go. I stuck the hooks of as many as I could fit into a Thai takeout menu, threw them into a zip lock and tossed them into the freezer so that bugs couldn't get to them. I only had one menu and I was in a rush to get on with the remodel so I did something else with the rest of the flies. I just can't remember what I did with them. So while making room for the twelve pack I moved an old frozen deer steak and laid eyes on the zip lock with the fly laden Thai menu in it and I knew. I had jinxed myself by taking the trophy flies down. By the time Kent arrived the Coronas were frosty, the trophy flies were back up on the wall and by a suggestion from James, we sat at my tying table and both tied up new Grocery Pollock flies. At first light the next morning we were headed outside in my skiff towards the beginning of a magnificent sunrise and into head high swells.
Getting the skiff close enough to cast into the rocks was slightly life threatening and we were both dancing around the skiff trying to stay onboard when it happened. Kent stuck a pig. The fish went straight down the shoreline and was quickly way into his backing and tail slapping in shallow, seaweed filled and wave crashing water. Kent did everything right and eventually we landed her. She wasn't much over 40" but she was a forty! Easing her over the gunwales gave me as much joy as if I had caught her myself. Now if I can just find the rest of those trophy flies and get them back on the wall, maybe I'll get a forty this summer.
Winter is on the horizon and the Maine coast is loaded with stripers. Drop your hoe, spit on the weeds and get out there. I wish the best of luck to you when you do.
Jim Bernstein
Fishing Report 8/2/16
Sorry for no report last week, the fly shop was extra busy and didn't have a chance. We got some more really hot weather, and exceptionally warm water temps in the upper 60's and low 70's. The fish overall didn't seem too happy with that warm water, but there was still some excellent fishing to be had. One day I covered a lot of water, and picked up a couple small schoolies along the way. It was one of those days where I kept thinking I should go home and mow the lawn or paint a room or anything off the honey do list, but I'm good at blowing off responsibilities so I can keep fishing. Finally, after hours of this I found a little piece of heaven. I was walking on some high loose rocks about 20 ft above the sandy beach. Tide was almost high, and I saw a big flash out of the corner of my eye. I looked down and there were at least 20 decent size fish right around 30" cruising tight to shore. The tide and small waves had packed in a bunch of seaweed, and the fish were cruising the edge of the weed line eating tiny shrimp, and isopods/scuds that were concentrated in the weed. This made for a very challenging presentation, but after I worked out all the details I got several nice fish to hand. It was one of the best sight fishing days I've had all season. Zero surface activity, but who needs it when you can watch stripers effortlessly gliding through 1-2ft of water. As the tide filled in a few bigger fish showed up, I got a couple good looks and follows from them but no eat!
I had one particularly fun day this past week fishing with my friend Bruce. We hit a spot just right and really had a great day, constant action for hours and hours on end. Bruce got a healthy 35" right away, which was the best of the day, but we completely lost count of the 25-30" fish brought to hand, several of which were properly sighted. It really is impressive how strong that class of fish is fighting this year, we were both a little embarrassed by how many fish got onto the reel!
I also got to guide Master Maine Guide Kevin McKay (of www.mainefishingadventures.com and www.maineflyfish.com) and his two sons for some stripers the other day. We had a blast. We got into fish right away, and stayed into them steady for most of the morning. They tripled up at one point before the sun even came up, what a great way to start the day! The fish count ended at well over 50 brought to hand, and many more lost. Mostly smaller fish but several feisty 27 inchers.
Jim and I got a chance to go fishing on his skiff which is always a blast. To be honest it was the lowest fish count I've ever had on the skiff, but I was driving so maybe that had something to do with it haha. We worked some rocks out front and had several follows from some big fish but alas no eat! We then went to some skinnier water and I poled and sighted fish while Jim to shots at them. Sight fishing conditions were definitely far from ideal, but we can both be pretty stubborn, and we had a wicked fun time. One of those days where its really not about landing fish.
Cheers,
James Browne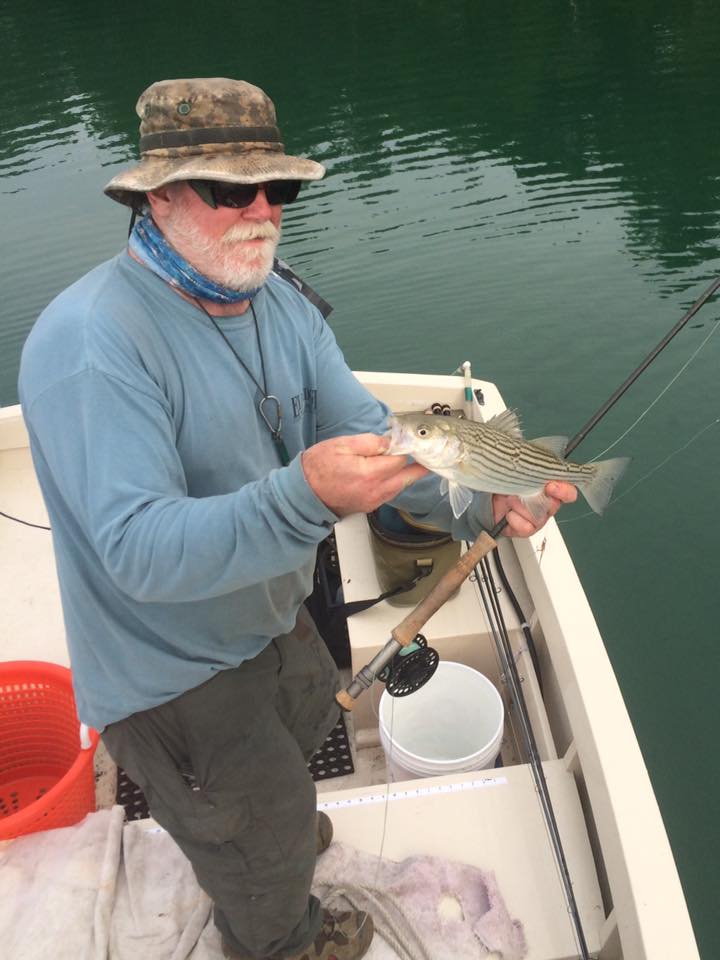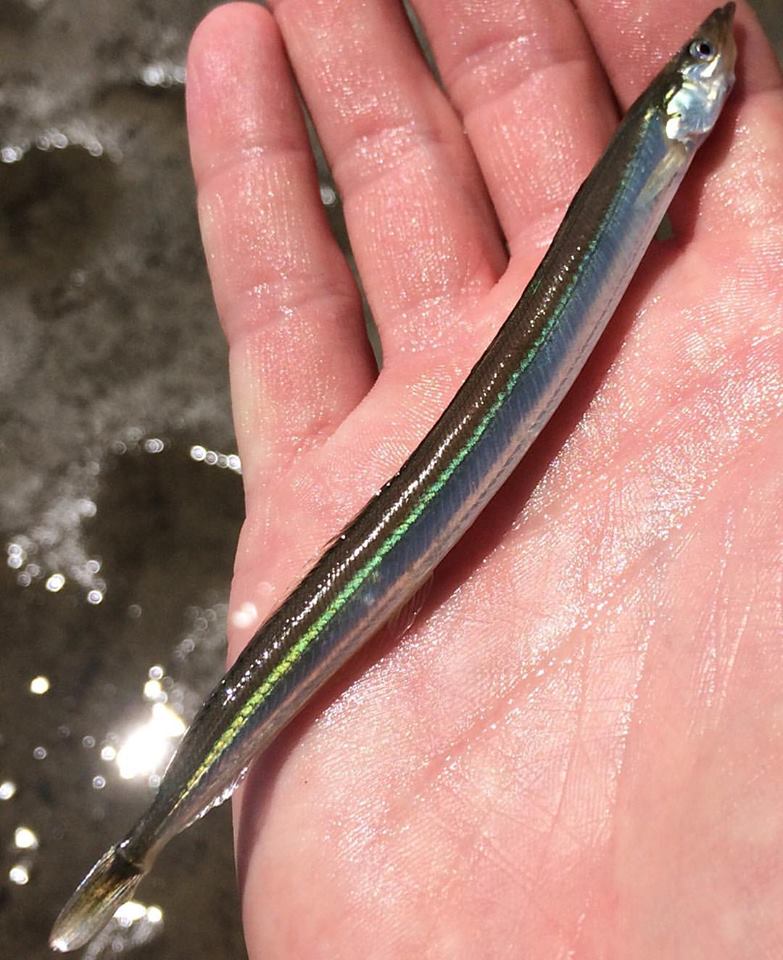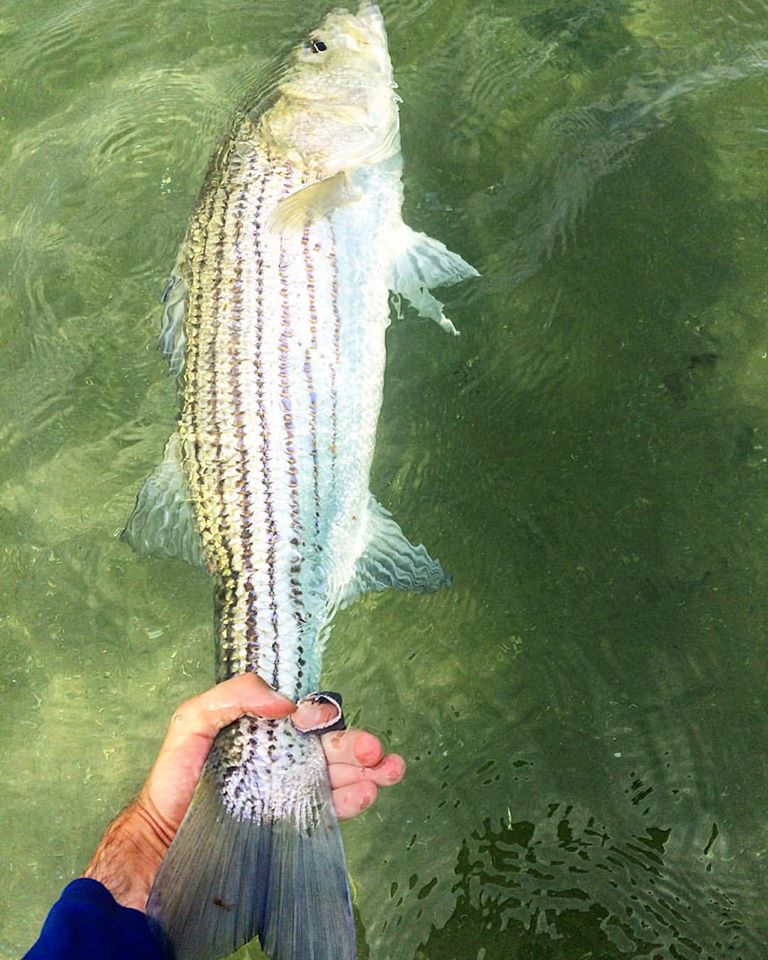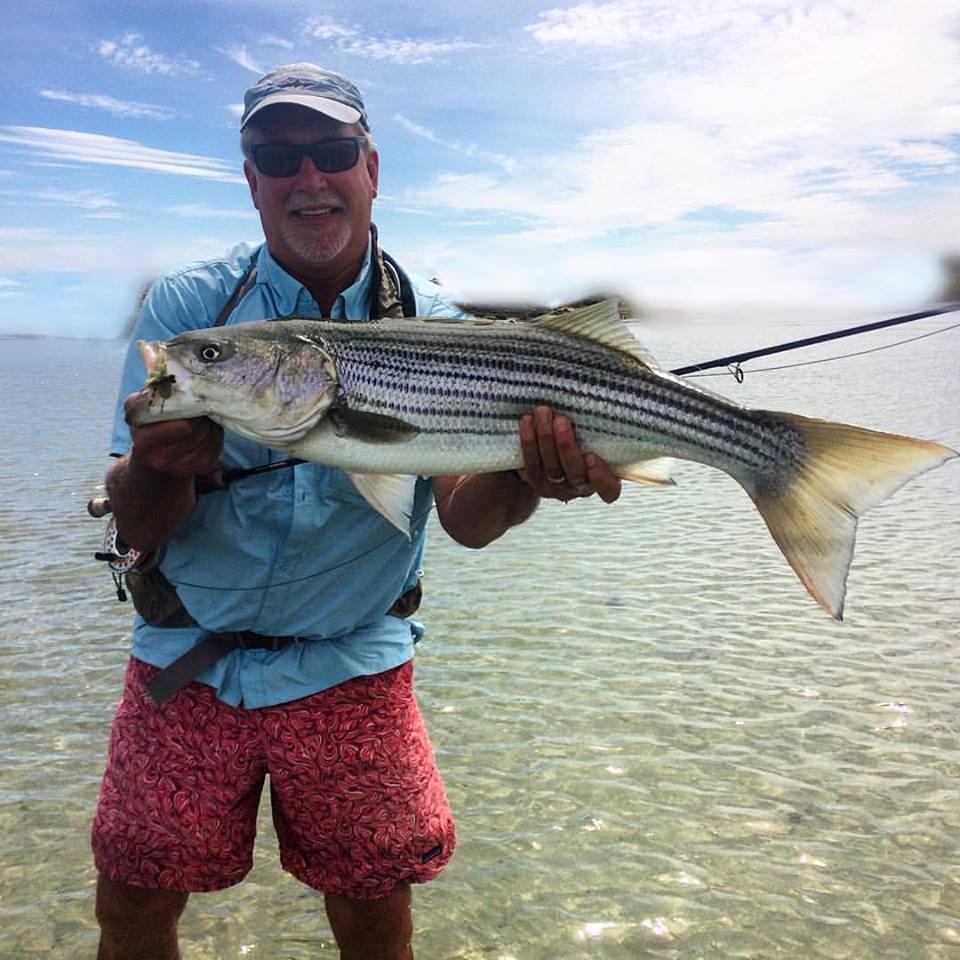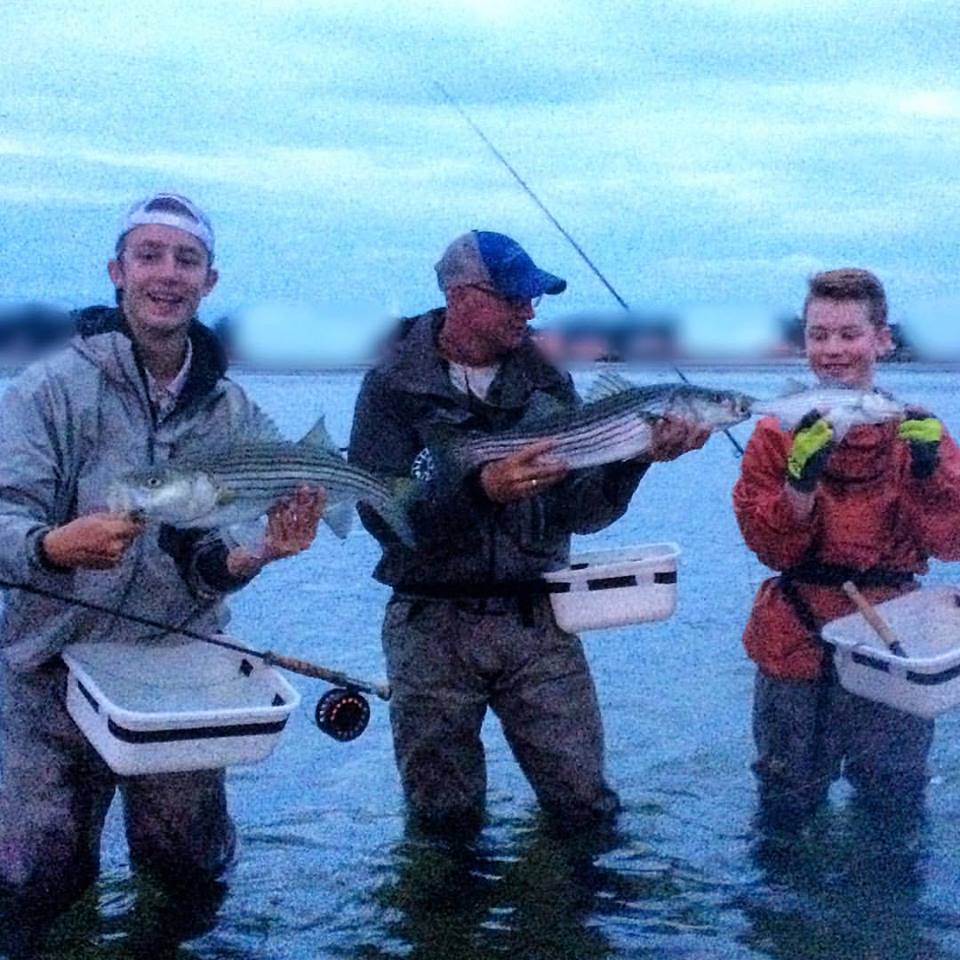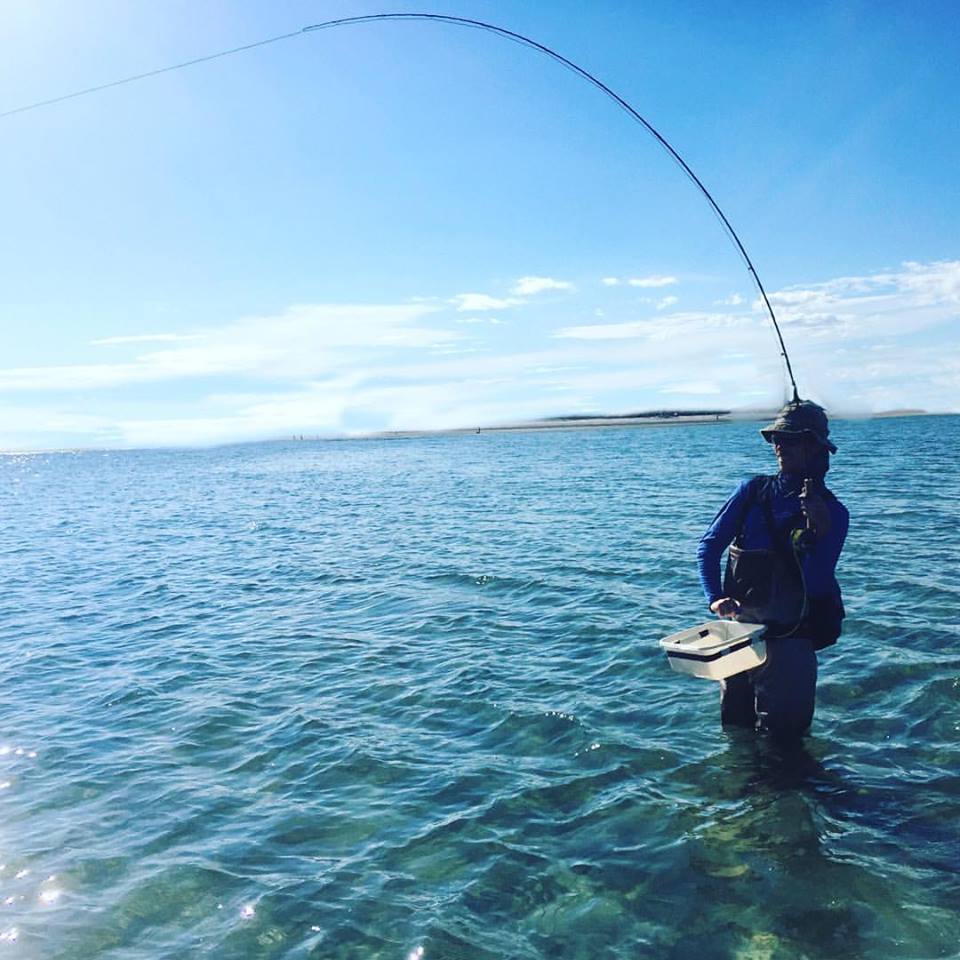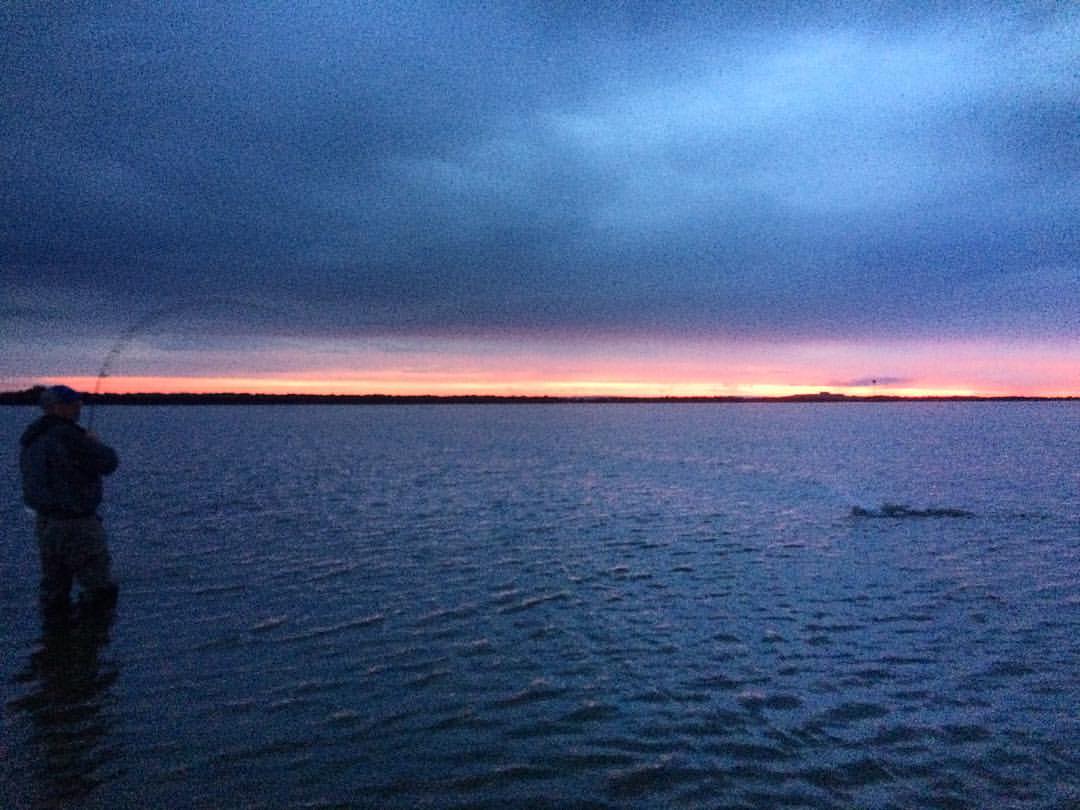 Fishing report 7/19/16
Wow we've had some hot weather lately! The fishing has still been really good for me, and I had some fun guided trips with great people. I feel truly blessed to spread the joy of this sport. I've found the good fishing to be a little more concentrated over the last week. Definitely had to log in some miles, which can be exhausting in the heat. I really do enjoy the hunt though, and the slow part of the day can really add to the anticipation and excitement of tying into a nice striper. I did a fair amount of fishing an intermediate line with small sand eel and silverside imitations this week. This was a nice change after lots of tossing the heavy sink tip for the past few weeks. Intermediate lines require much more of a traditional casting stroke, which I enjoy. I continued to find a good mix of fish sizes this week, with everything from a micro 7" to a drag screaming 35". Most fish were still 20"-28", but I honestly enjoy every fish I get to play with, even the micros. The 35" fish I caught this week was a real bruiser. I hadn't even had a hit at this spot after fishing for about 40 minutes. I knew there were fish in there though, had seen a few schoolies bust right when I got there. There was a pile of silversides getting washed around, and it just felt fishy. I kept blind casting into this little hole and then it felt like I hooked a rock, thud. I set it anyway, as it's always the right thing to do. A couple seconds later and the head shakes started, and then it turned, put a deep bend in my Winston, and took off. The reel was singing, going a good way into the backing and things looked promising, then it turned and ran straight at a mooring ball. I clicked the drag down a touch, and added some palm pressure, but I was using a size 6 fly and didn't want to pop it. Then I felt some bad tension, and saw the mooring ball moving out, uh oh! Then the ball started to come back at me and I feared I had fully wrapped the rope. So I really gave it some pressure and started gaining some line back. Then all of a sudden, pop! We were free of the rope. It continued on with several minutes of back and forth fighting, then it gave me a real challenge coming to hand but I landed it. Many of us have stories about the fights that went wrong and the fish we lost, its part of the game, but its always rewarding when a little bit of luck is on your side.
Cheers,
James Browne
Fishing Report 7/13/16
And the fun striper fishing continues! We had some more challenging conditions last week with a couple days of rain, surf, wind, and sea weed, but there was also some excellent fishing to be had. Out front on the beaches and along the rocks continues to heat up. Still a lot of bait of many varieties around, but over the next couple weeks it would be wise to spend some time throwing bigger stuff like pollock or mackerel patterns off the rocks, especially if you like to fish in the dark. The skinny water and up in the estuaries will continue to produce fish, although they will be even fussier, and probably not as many moving through those areas. I am continuing to see a great range of fish sizes, with good numbers of those great fighting 28-32" fish, tons of smaller schoolies, and some big fish. I managed to land two drag screaming fish this week, one at 33" and a fat 35". Fish in this size range tend to lay down some of the more high speed runs you will encounter striper fishing, especially when caught in shallow water, tons of fun!
Just a quick note on fish handling, especially when fishing off the rocks. Some rocks may leave you a bit high off the water. You need to plan out how you will land and release fish in these places. Hauling a fish 10 ft up and then throwing it back into the water is not safe fish handling and can result in injury or death for the fish. Of course the rocks are dangerous and you need to be safe too, so a little bit of looking around and coming up with a plan is a great way to ensure safety for you and the fish.
Cheers,
James Browne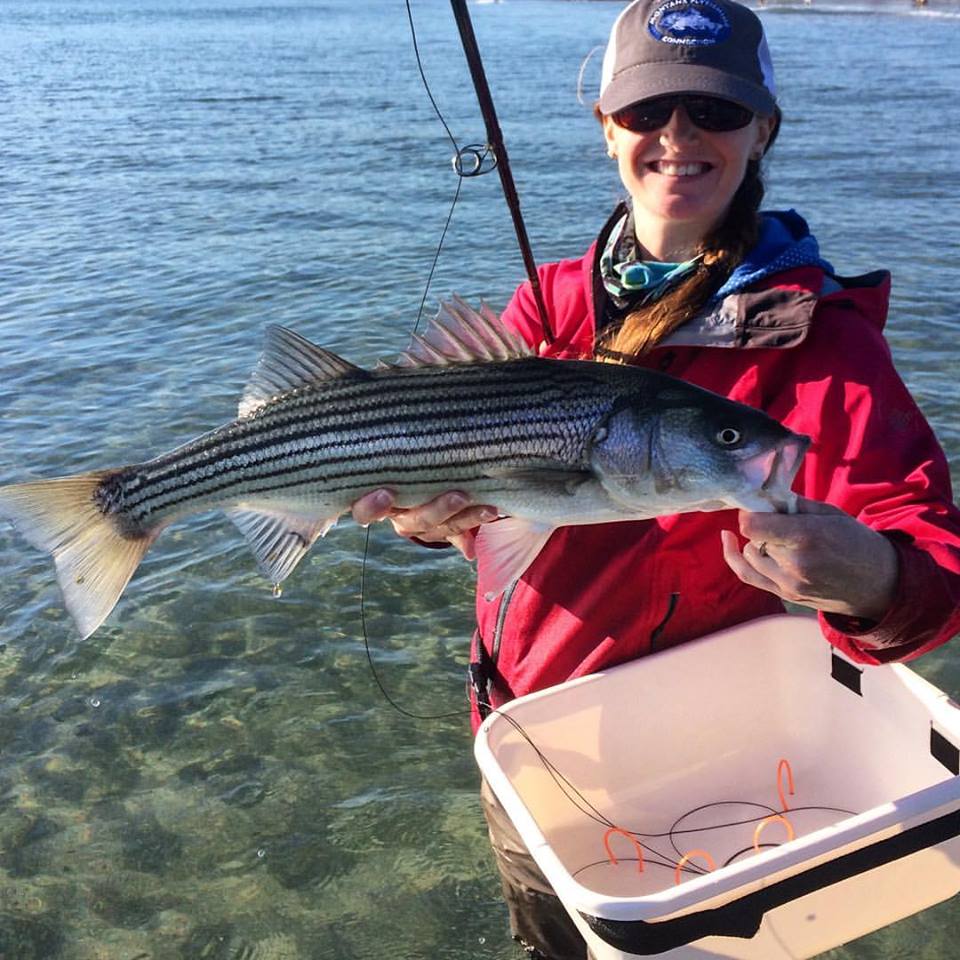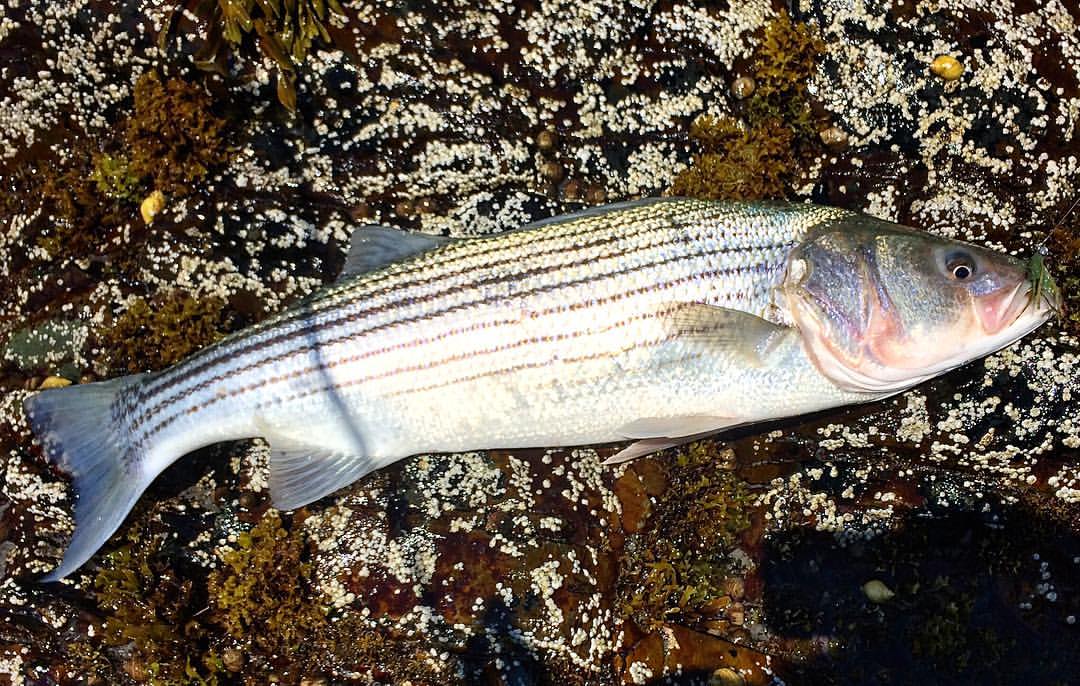 Fishing Report 7/5/16
Another fun week of fishing in southern Maine! It's been a bit of a tough week for a shore angler as far as weather conditions. We had pretty decent surf for a couple days which made it very challenging to fish out front off the rocks or on the beaches, and the wind has been pretty strong through mid day which has killed a lot of the sight fishing opportunities. We've also had a ton of seaweed in close to shore, and cold water again, dropping to as low as 50 degrees in a few places! But still if you are willing to put in the time, there have been some excellent fishing opportunities to be had. This week had 3 high points for me. One was sighting multiple cows 40"+ cruising in wicked shallow water. I had probably a dozen good shots sight casting at them, and two good follows. One followed for about 35 feet on a top secret new pattern I've been working on, and I swear it ate the fly, but I never got tight to it. The second high point for the week was guiding a father and son over the holiday weekend. Always fun to be part of a father son fishing trip, and although we caught some tough luck with conditions, we still had a fun morning and got into some good fighting fish! The third notable session was taking Elizabeth out very early on the 4th of July. It was a beautiful sunrise, and we picked up fish at a couple spots, but then we found a big school of hungry fish tight to shore in the surf. We hammered them for the next couple hours, it was a blast hooking one fish after another and landing quite a few. Lizzy proving that pregnant women can catch fish too, in fact she out fished the guys live lining from a boat in front of us! It seems like a lot of the fish are starting to fall into a bit more of the summer pattern, and early mornings have definitely been more productive. Still a good pick of fish through the day, and the evening bite has been good too, but that first light bite has definitely been on. The Crab Pot continues to be my most productive pattern, no surprise there, but I spoke to a friend this week who was hammering top water fish on Gartsides Gurgler. The Guitar minnow continues to be productive, as well as several sand eel, silverside, and juvy herring patterns. I hope the surf stays down this week as it's definitely time to go for some big fish out front on the rocks with Jims Grocery Pollock. Hope everyone had a fun and safe holiday weekend.
Cheers,
James Browne
Fishing Report – 6/28/16
What a great season it's been. It's been really nice to see such a good spread of fish sizes, and good numbers too. Its still fishing, and there have definitely been some slow outings, but a lot of days filled with catching too. I had a fun week of guiding, introducing a few people to their first stripers on the fly, and did two trips with Brandon where we caught fish in quite a few different environments from the surf to the flats to way up in the marshes, and with multiple different presentations/techniques. We've had some amazing sight fishing with the recent tides and sunny days. So the sight fishing was excellent, the catching not so much, these are some spooky spooky fish. This is truly the most challenging way to fish for stripers, don't cast until you see a fish. I will say that early hours have been much more productive than the sunny times, and although I haven't done it lately, I'm sure night fishing is very good right now. Hot flies for me this week were the Crab Pot, very sparse fox tail olive over white clouser, sz 2 Guitar minnow, bucktail Emu, and the Simram. I had some good looks and follows throwing big 10" hollow flies off some ledge type stuff out front, but did not connect. I had a very long day of fishing yesterday with no success. Went home took a nap and headed back out resolved to grab a few schoolies way up in a marsh. Fished for almost 30 minutes without a hit. Then had a solid grab. Few head shakes and I felt some weight. Then came a screaming run way into the backing. We had a long battle after that with several more long hard runs. My 8wt was bent deep, but I kept my cool and landed my second 40" of the year. Also seen some really strange stuff lately, including a snapping turtle in the surf, and a mess of scup way up in an estuary.
Cheers,
James Browne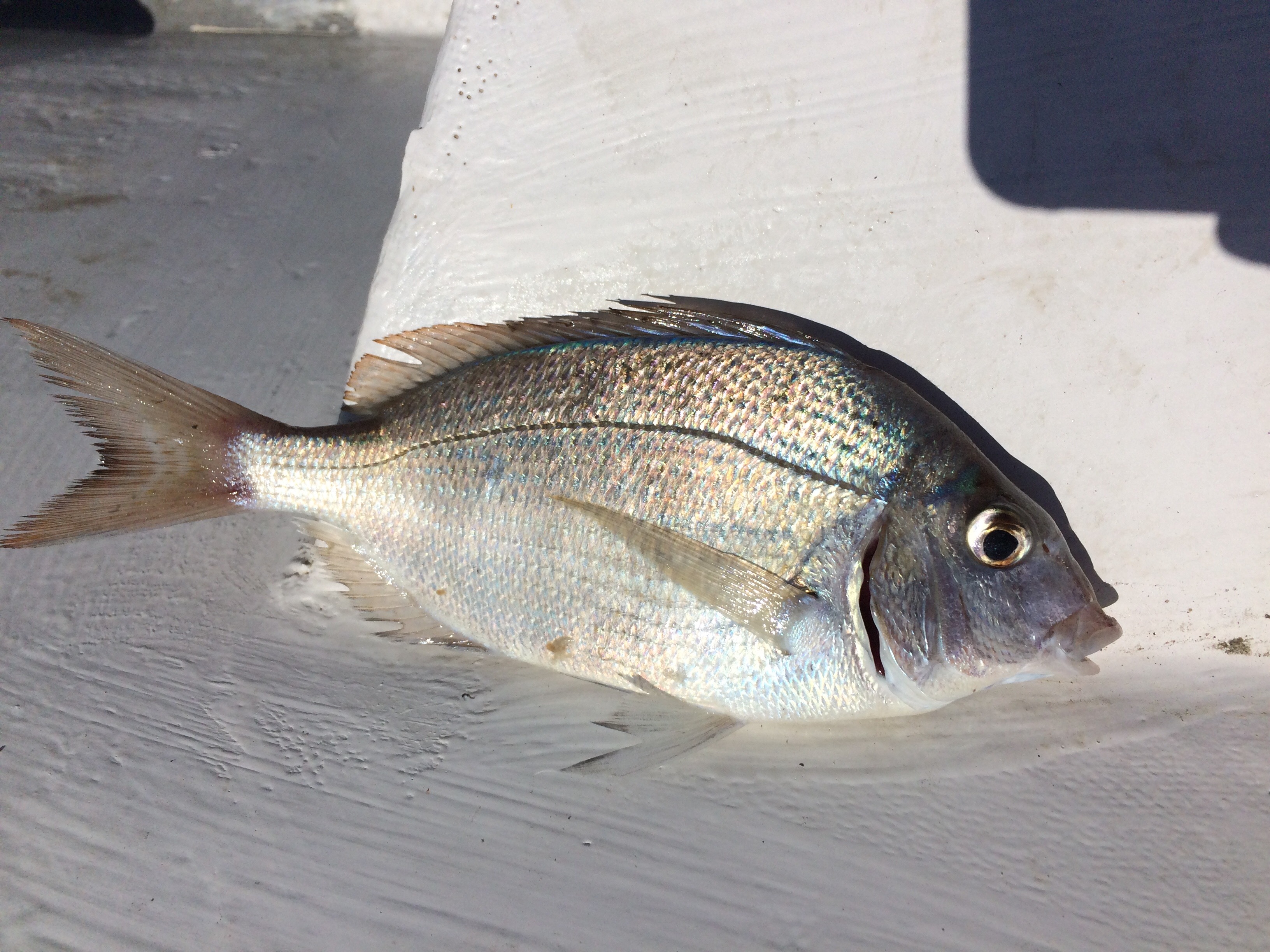 Fishing Report 6-21-16
Saltwater fishing has been a bit more challenging over the past week just due to the weather conditions. We had a howling NW wind blowing for about 5 days, it moved the bait and fish around a bit and cooled the water off. We heard of some areas having real tough fishing through that wind. I still did well and caught good numbers of good sized fish, although it required a lot more effort (especially casting into 30mph wind sustained) and covering more water. Since the wind subsided things picked right back up. Out front has really heated up for me and fishing off the rocks or in the surf on the beaches has been a lot of fun. Early fishing has been more productive in numbers of fish from 3am-8am, but from 9:30am-1pm has provided some wicked fun sight fishing also. I've also found some excellent surface activity early, with macks and pollock busting on sand eels, and then stripers coming in and attacking all of them. Fishing a gurgler to busting fish at first light is one of the most enjoyable things you can do in the salt. Had an awesome Fathers Day fishing with my Dad and little Brother,The Crab Pot continues to be my most effective pattern, but I do fish it the most. I've also caught plenty on guitar minnow, little mule, gurgler, deceiverish tinker mackerel patterns, and Jeff Faulkners sand eel. After seeing some real big fish chasing pollock clear out of the water the other day I will most certainly being throwing Jims Grocery Pollock a bit more too. The quality of the fish this year has been great too. There have a been a ton of micro bass around from 7"-15", but the bulk of the fish I've seen/caught this year have been very healthy good fighting 25-30" fish. There have also been a lot of big fish around, with quite a few 40's being caught. Fish should start to fall into a more regular summer pattern very soon. I get a lot of questions about which tides are best too, and this is my honest answer. Every tide is good, you just have to find the right place.
Cheers,
James Browne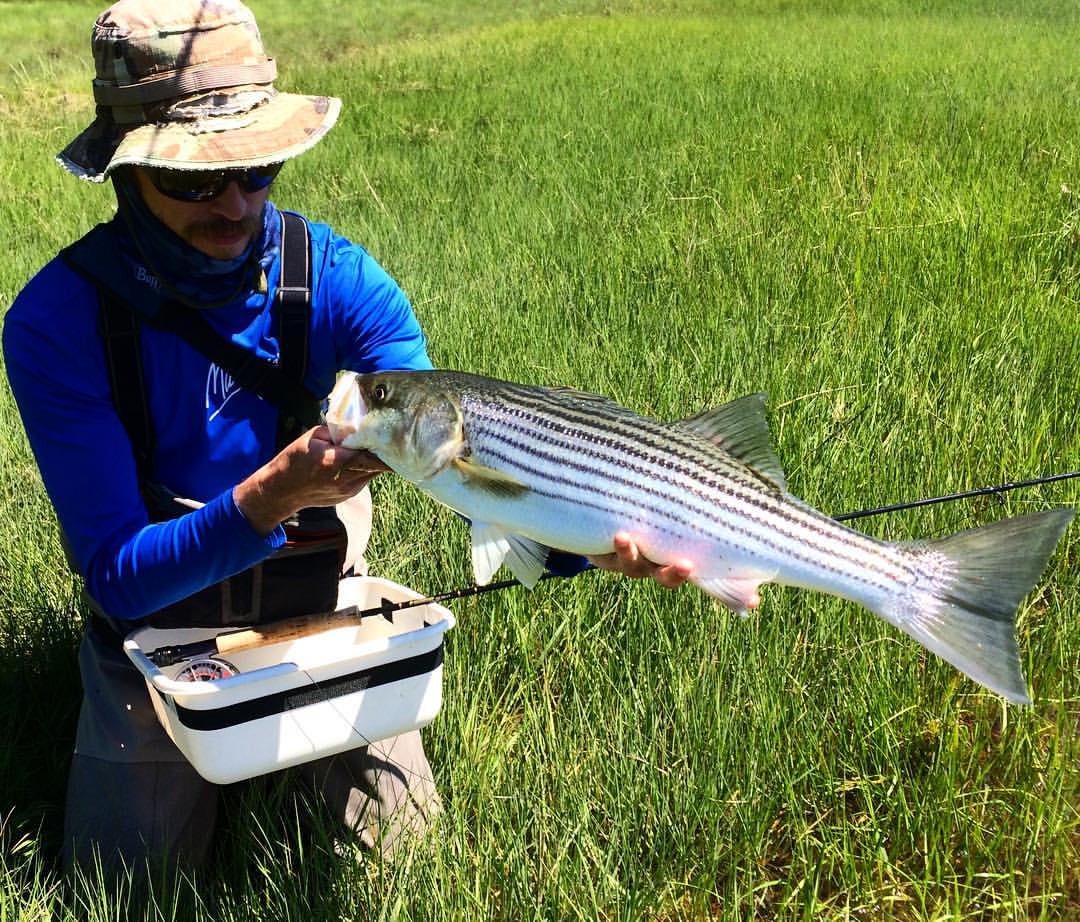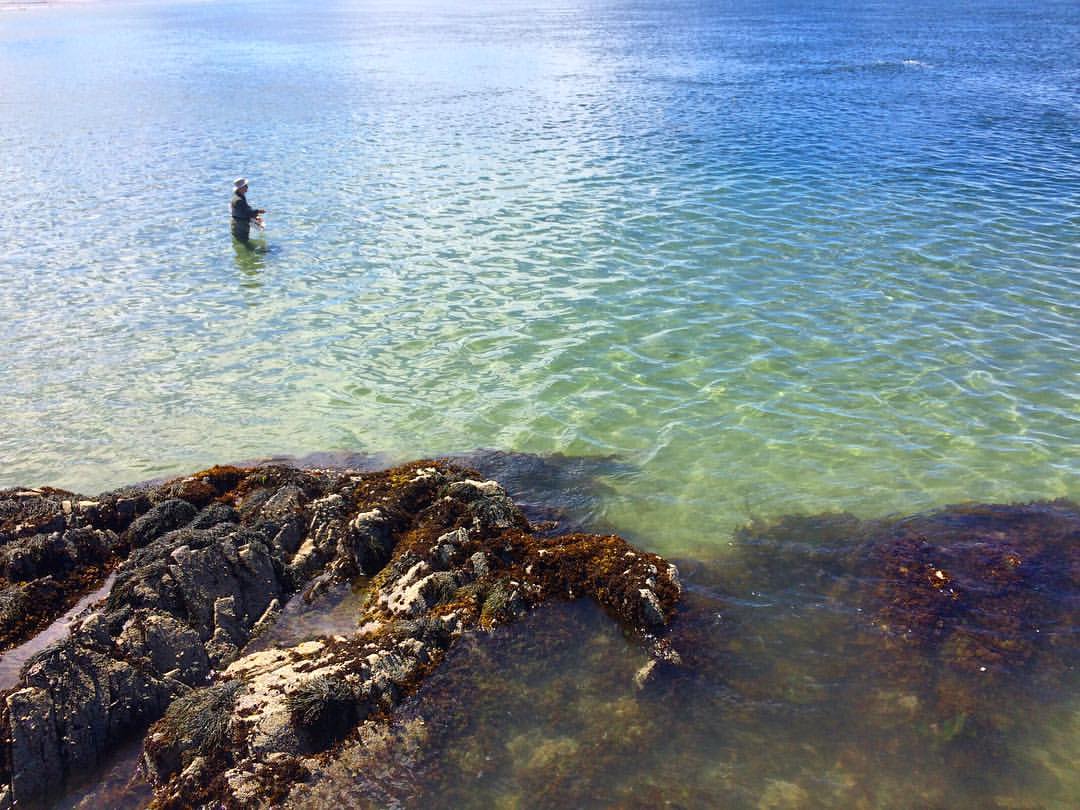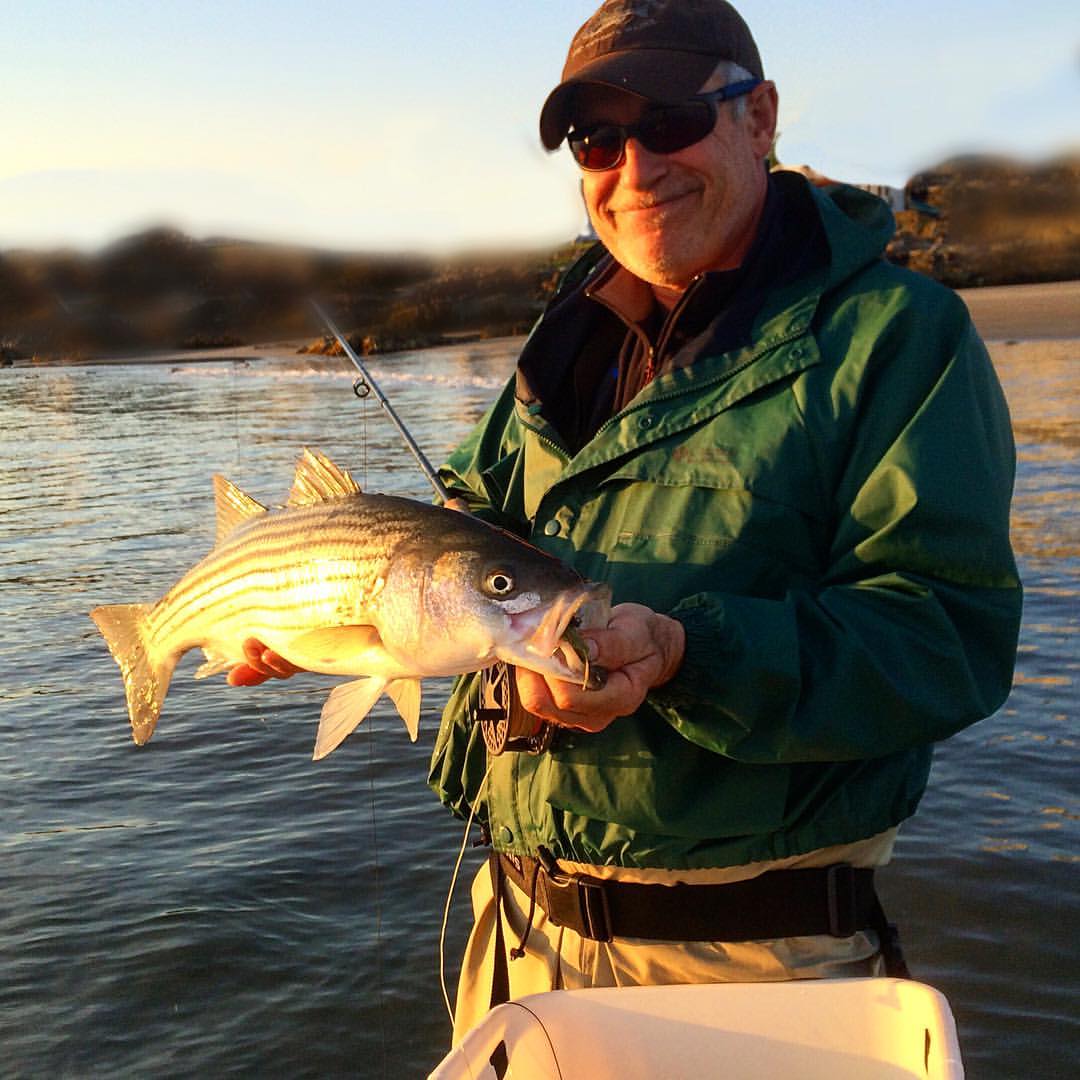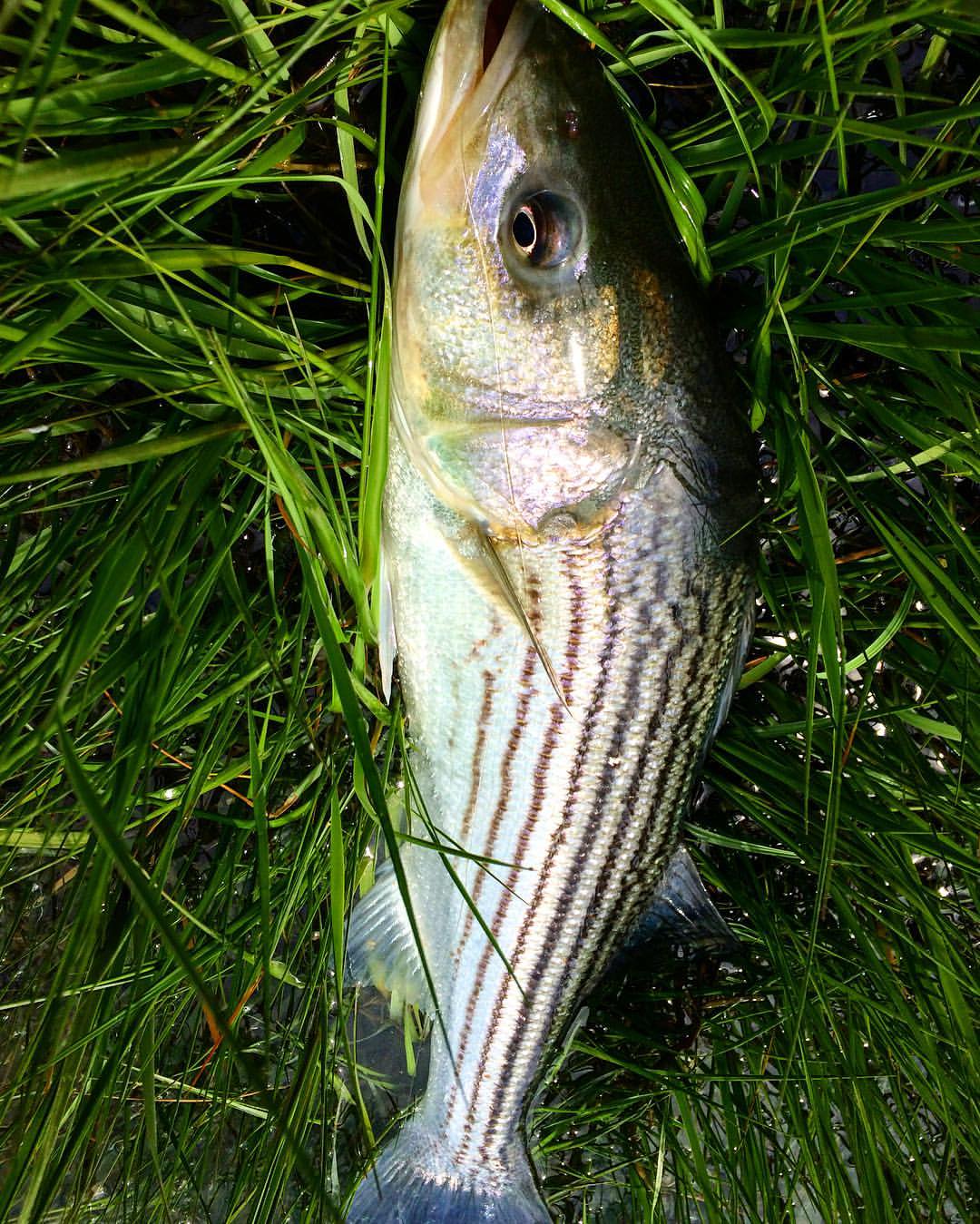 Fishing Report 6/13/2016
Bout time for a report bub! Fishing season is well under way at this point in both the fresh and saltwater. I got to make several trips north in May to fish for wild brook trout. Fishing was excellent. I didn't encounter the bug activity I had hoped for so didn't do much in the way of dry flies, but streamer and nymph fishing was very good. Some of the areas I fished are pretty well traveled, and I saw quite a few anglers on a few days, but everybody seemed to be doing fairly well with the fishing and enjoying it which is always nice to see. It was also nice to see everybody being civil and not crowding each other. The hot streamers for me were a soft hackle or marabou wing streamer in medium dun/white with some black barring and a tungtsten bead. Fish were taken on many nymphs including pink worms, Kingreys golden stone, sparkle maggots, prince nymphs, blue quill jig nymph, blood dots, and I'm sure some others that I'm not remembering.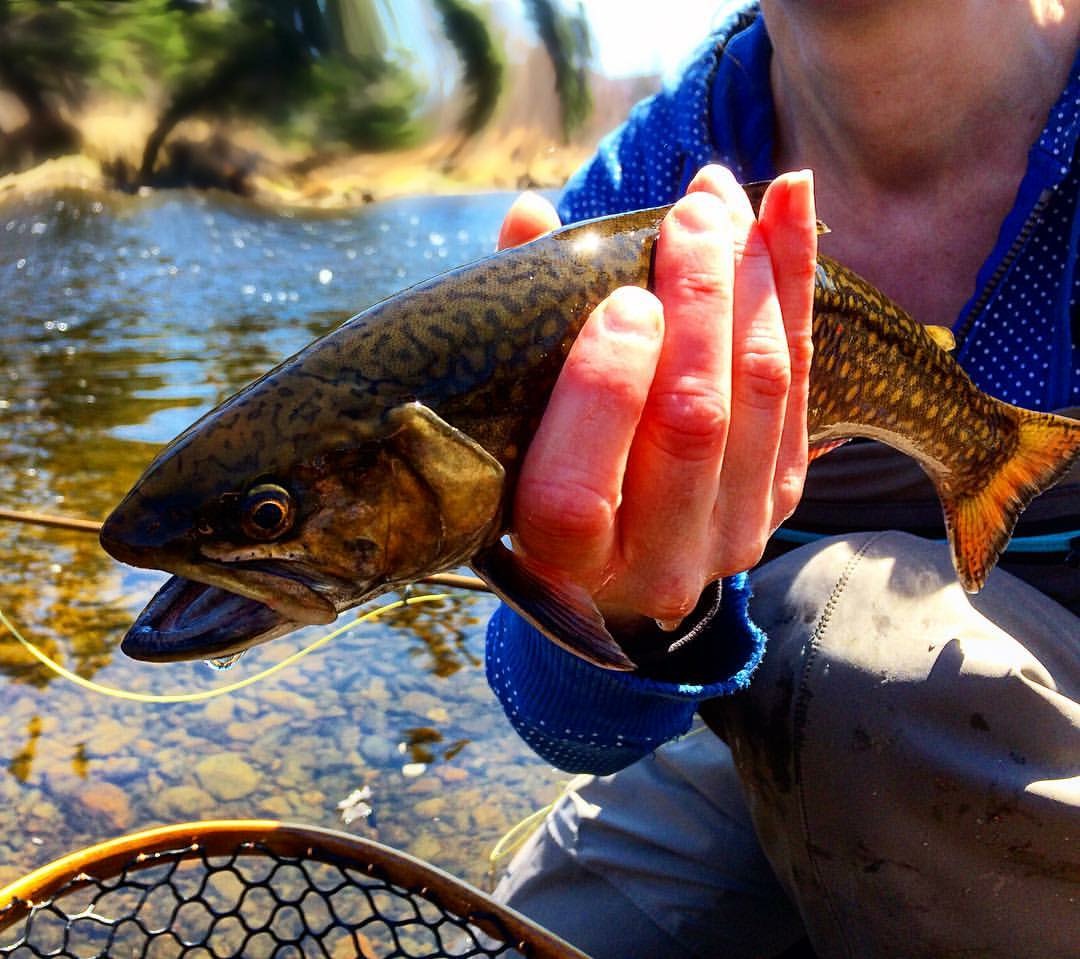 Saltwater fishing kicked off right on time this year. Fish started trickling in the first two weeks of May, good numbers arrived through the last two weeks, and bigger fish showing up last week of May first week of June. This was refreshing after last years late cold start. Its definitely started out as one of the better years in the last 5 or 6 I'd say. Huge numbers of very small fish starting at about 8" up to 20". They are all over the place. Please handle these fish with respect and care as they are the future. I've also been catching a ton of 25"-30" fish which are very healthy and put up a great fight on light fly gear. These fish are a blast and its great to see so many of them around. These fish will be prime breeders in the next 2-4 years, so even though they are legal keepers at 28" please fish catch and release and we may see a serious rebound in the striper fishery. Bigger fish have been showing up over the last 2 weeks, and I've been fortunate enough to land several mid 30 inchers a bunch right around 30", and one very healthy 40" estimated right about 37lbs based on measurements! Fishing has been excellent both from shore of from boat. There has been a ton of bait around, herring of all sizes, mackerel of all sizes, tons of crabs, sand eels, pollock, squid, silversides and even a few bunker. Hot flies have been the guitar minnow, gurgler, bucktail emu, crab pot, red claws, hollow flies, and grocery pollock. We've had a lot of happy and excited anglers coming through the shop the past few weeks, get out there and fish!.
-James Browne
January 18, 2016
Although the snow and colder weather has finally found us this winter you may be interested to know that the open rivers in the area are still producing rather well:
Mark Drummond fished above the head-of-tide on the Mousam River last week and did very well with the browns. Eggs and small nymphs fished best in the low water.

A few customers have come in recently with pictures of chromed sea-run browns from the Ogunquit River. An effective streamer for these fish is the Wood Duck Heron swung very slowly

The Cocheco River in Dover has probably received the most attention this winter -- primarily due to the qualit

y and quantity of trout stocked by

Three Rivers Stocking Association

. Watson Dam has been fishing well and consequently is receiving the most pressure.

The water has chilled to the point where nymphing these rivers will most likely give you the advantage over fishing streamers. Because these are all relatively newly-stocked fish, a gamut of flies will work; popular patterns include orange eggs, Blood Dots, Copper Johns, Sparkle Maggots and Buggers. You will occasionally find some limited midge activity so a few Griffith Gnats and RS2s (in gray) are recommended. James Browne saw a few black stones coming off recently on the Cocheco. It won't be long now before they are prevalent -- as they usually seem to be in this area in mid-winter. Small imitations (from #14 - #22) are best.
Eric Roach